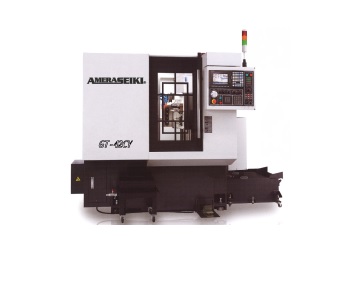 Amera-Seiki has three simple goals for all our products: Great machines, great prices, and great service. For more than 20 years, we've been an industry leader in the field of lathes, machining centers, bridge mills, and other CNC machine tools.
The Amera-Seiki "Gang Type" GT Series is one of the products designed to help you. Reliable, strong, and effective, it's just the type of machine our customers demand.
CEO Tom Sadler, of the Sandler Machine Company, is one such satisfied customer.
"Comparing the Amera-Seiki product line, compared to some of the other machines I've had in the past," he said, "I'm getting much longer life out of the Amera-Seiki's and it's got to be the quality that's built into them."
The Gang Type GT series is available in three models: GT-42CY, GT-52CY, or the GT-60CY. We know you'll appreciate the standard features on each of the models including:
Lighting Device
Coolant Device
Splash Guard
Tool and Tool Box
Base Block 4 pieces
Spindle Hydraulic Cylinder
Inner Tool Holder Sleeve: Ø8,10,12,16,20 mm
Foot Switch
Collet Chuck Holder
Collet Chuck
C Axis
Cross Drilling/Milling Device (6-tool)
End Face Drilling/Milling Device (6-tool)
Heat Exchanger
Parts Catcher
Lubrication Device
Operation Manual
Each of "Gang Type" GT Series feature four axis simultaneous controls (X/Y/Z/C), a 24 tool holder, a turning diameter of 60mm, fast tool changing speed by gang type tooling system to save cycle time, and C/Y axis work which can simultaneously make polygonal parts.
Optional Accessories:
Parts Conveyor
Chip Conveyor
Voltage Stabilizer
Transformer
Multiple Bar Feeder
Tool Nose Coolant Device
Cross Drilling/Milling Device
(5-tool ER-25)
End Face Drilling/Milling Device
(5-tool ER-25)
Before you buy, make sure to check our always updated website for our in-stock specials or to purchase used equipment from our Amera-Seiki inventory. We have machines to fit every job and every budget.
To learn more about the "Gang Type" GT Series and how it can help you, call our trained professionals at (319) 730-0310. You can also fill out our simple online contact form for more information or to find a local Amera-Seiki dealer.