Any which way you cut it, Amera-Seiki's brand new Closed-Bridge Vertical Machining Center is in a class all its own!
While most companies manufacture and sell bridge style vertical machining centers (VMC), Amera-Seiki is thrilled to introduce its one-of-a-kind closed bridge VMC.
The advantages of our new VMC are clear. The Amera-Seiki closed bridge design:
Provides five (5) times the structural rigidity of a typical C-frame VMC
Offers 51" Y-axis travel
Requires a smaller footprint—25% less—because the table doesn't move in X-axis, our table only moves in Y axis
Weighs about 33% more than a traditional VMC
Large table load capacity because of our (4) Y axis way system
Ensures high stability during heavy cutting and high speed conditions
We know you'll also agree that the design and components of our new machine are innovative and unique.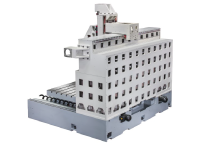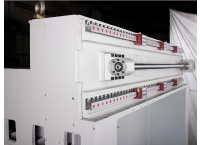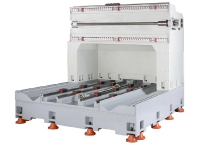 Guide Way System
Amera-Seiki's new closed bridge VMC offers a Swiss-made roller linear guide way system. What does this mean for you? Each of the rails and carriages are paired in sets, resulting in much greater accuracy. Using an X-axis counter draw design, this machine delivers maximum stability for both the X and Z axes.
Spindle Head Design
The new closed bridge design uses an AC spindle motor that delivers up to 15,000 rpm with CT-40 tooling and up to 24,000 using HSK-63 tooling. We also offer 6,000 rpm, CT-50 tooling with a (2) speed ZF gear box. In fact, Amera-Seiki's counter draw design offers the most rigid configuration possible, virtually eliminating any vibration problems.
Ballscrews
Yet another component that differentiates the Amera-Seiki closed bridge VMC from typical models are its pre-tensioned and pre-loaded double nut ball screws. Supported at each end by three sets of oversized bearings, the ball screws increase rigidity and help reduce backlash, temperature variation, and deflection.
Full machine enclosure is standard on all our Amera-Seiki closed bridge VMC's. Providing this top to bottom coverage guarantees a clean and safe work environment and protects machine operators from stray chips.
Automatic Tool Changer (ATC)
You'll love the time you save with Amera-Seiki's automatic tool changer (ATC). Each ATC can store up to 24 tools. Our optional arm-type tool changer makes it possible to have up to 60 tools and meet a speedy 2.5 second tool-to-tool time.
Coolant Routing & Chip Removal
Each sturdy VCB base comes equipped with low profile coolant jets. These help prevent interference caused by hoses or tubing within the equipment. Further, the standard chip flush routes chips out of the work area for quick and easy disposal.
Automatic Lubrication System
Finally, you'll appreciate our machine's automatic lubrication system. The large reservoir delivers a constant flow of oil to both the guide ways and the ball screws, increasing the life and productivity of your equipment.
For more information about our New Closed Bridge style VMC, please call Amera-Seiki at (319) 730-0310. We look forward to speaking with you.